Education & EAA Schools
EAA School in Genetics
Date : TBA (postponed)
Location : Tartu, Estonia
Organizers: Maris Laan and Margus Punab
The EAA School in Genetics initially planned for early May 2022 has been postponed.
This decision was forced by uncertainty and travel problems due to the war in Ukraine, which is carried out by Russia, with which Estonia shares a border. The dates of the course will be re-settled, when times will become more stable.
Venue: Conference Centre of University of Tartu Library
The course aims to revise the basic concepts of medical genetics, provide the state-of-the-art overview of currently applied genetic tools in andrology and introduce the advances in androgenetics.
Organizers and Tartu core faculty:
European Academy of Andrology (EAA) Centre Tartu
Prof. Maris Laan, professor in human genetics, University of Tartu
Prof. Margus Punab, Andrology Centre, Tartu University Hospital
Other local faculty:
Drs. Laura Kasak,
Triin Laisk,
Triin Kikas,
Rain Inno
International faculty for on-site training:
Assoc. Prof. Kristian Almstrup (Copenhagen, Denmark)
Dr. Liina Nagirnaja (Portland, USA)
International faculty for virtual training:
Prof. Csilla Krausz (Florence, Italy)
Prof. Frank Tüttelmann (Münster, Germany)
Prof. Joris Veltman (Newcastle, UK)
Dr. Don F Conrad (Portland, USA)
Who should apply: clinical andrologists and infertility specialists; clinical geneticists counselling in reproductive medicine; gynecologists; basic researchers in reproductive biomedicine; all other attendees interested in male reproductive genetics
Number of participants: 30 (priority to EAA junior members!)
Language: English
Number of EAA credits: 2
DEADLINE for applications: TBA
Completed application forms are to be emailed to the course manager Ms Mailis Sütt.
Contact:

This email address is being protected from spambots. You need JavaScript enabled to view it.

, phone: +372 7319 323
Please attach also curriculum vitae and a brief description of your current interests
Registration fee (including lunch, coffee breaks, welcome reception, and course dinner):
In-training students EAA trainees 120€
EAA members 180€
Others 250€
EAA Travel grants are available to five EAA members (max. €350 each).
Priority is given to junior researchers.
Applications for the travel grants to the EAA School Tartu must be submitted by 6 March 2022.
The travel grant application form: https://www.andrologyacademy.net/application-forms
Course fee is to be paid to:
Tartu University Hospital
AS SEB Pank
IBAN: EE641010220001585019
SWIFT/BIC: EEUHEE2X
Reference upon payment:
Andrology Centre, EAA 2nd School in Genetics 2022
Accomodation is not covered by the registration fee
The course venue is located in the centre of Tartu and there are several options for accommodation nearby.
Recommended budget accommodation:
Hotel Tartu, https://www.tartuhotell.ee/en/welcome/
Hector Design Hostel, https://www.hektorstay.com/hostels/en/
Recommended other hotels within walking distance of the venue:
Dorpat Hotel, https://www.dorpat.ee
vSPA Hotel, https://vspahotel.ee/en/
Villa Margareta, http://www.margaretha.ee/en/
Pallas Hotel, https://pallas.tartuhotels.ee
Barclay hotel, https://www.barclayhotell.org
Report from the 1st EAA School in Genetics, Tartu 2019
1st EAA School in Genetics of Male Infertility, 11-13 September 2019, Tartu, Estonia
The new EAA School was organized by Maris Laan (Institute of Biomedicine and Translational Medicine, University of Tartu) and Margus Punab (Director of the EAA-accredited Andrology Centre, Tartu University Hospital). The course reviewed basic concepts of medical genetics, provided the state-of-the-art overview of currently applied genetic tools in the andrology clinic and introduced the recent advances in androgenetics. The Faculty included Csilla Krausz, Frank Tüttelmann, Joris Veltman, Pille Hallast, Maris Laan, Margus Punab and Lili Milani.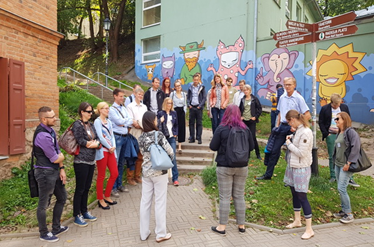 There were also practical seminars on basic medical genetics terminology, human genetic databases ('hands-on' computer class) and their utility in clinical practice, and discussions on relevant clinical cases. These seminars were presented by additional members of the home team. 21 participants (including 7 EAA members) from several countries attended the meeting. The School received a high rating among the participants.