Education & EAA Schools
EAA Zagreb Summer School 2022
Testis Histology and Pathology for Clinical Andrologists and Embryologists
Dates: 27 June - 1 July 2022
Venue: University of Zagreb School of Medicine, Šalata 3, 10 000 Zagreb, Croatia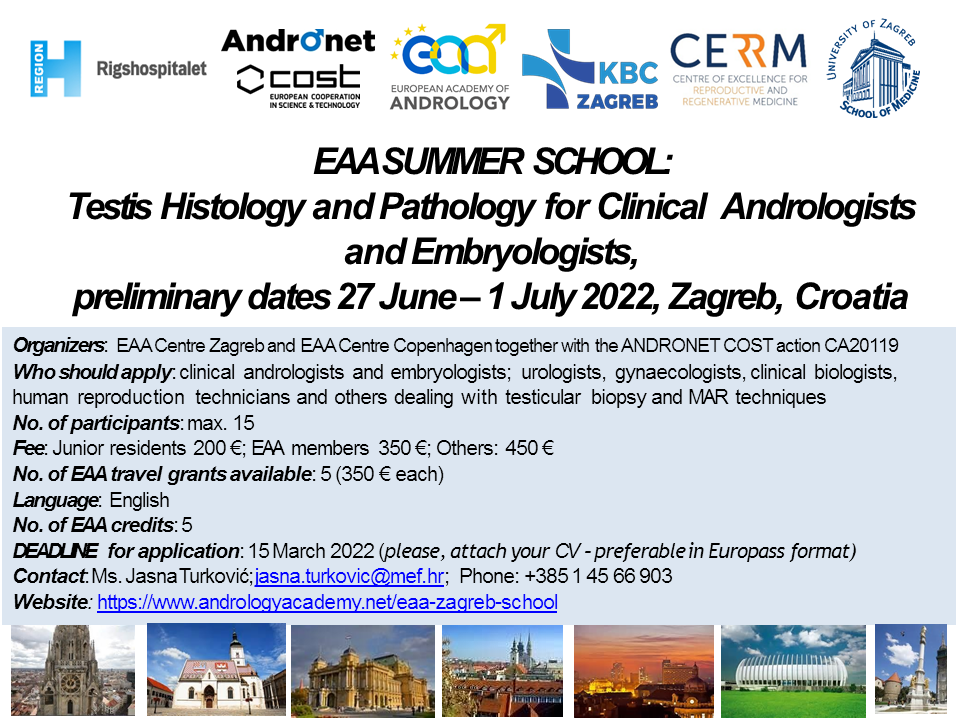 Coordinators:
Davor Ježek (University of Zagreb School of Medicine),

This email address is being protected from spambots. You need JavaScript enabled to view it.
Faculty members:
University of Zagreb School of Medicine:

Prof. Dr. Davor Ježek
Prof. Dr. Željko Kaštelan
As. Prof. Dr. Branka Golubić Ćepulić
Dr. Dinko Hauptman
Dr. Zoran Zimak

University of Copenhagen Royal University Hospital:

Prof. Dr. Niels Joergensen
Prof. Dr. Ewa Rajpert-De Meyts
Dr. Lise Aksglæde, PhD
Download 2022 Summer School Programme

This is the 3rd edition of the EAA Summer School focusing on Testis Histology and Pathology for Clinical Andrologists and Embryologists. The EAA Summer School is jointly organised by the European Academy of Andrology (EAA) training centres Copenhagen and Zagreb together with the ANDRONET COST action CA20119. It was approved by the European Academy of Andrology (EAA) Executive Council in 2017 – with the 1st edition held in 2017, followed by the 2nd edition in 2019. The EAA Summer School objective is to offer a high-quality level training to physicians interested in andrology as follows:
to refresh the knowledge of clinicians dealing with andrology and clinical embryologists/biologists on normal testis morphology, in particular spermatogenesis, genetics and epigenetics of male fertility/infertility;
to enhance the knowledge on various degrees of damage of spermatogenesis, make them familiar with the current classifications of spermatogenesis damage;
to demonstrate open biopsy of the testis – TESE /and mTESE/, sperm harvesting from testicular biopsy;
to deliver basic knowledge on testicular dysgenesis syndrome and the early detection of germ cell neoplasia in situ (GCNIS) testis;
to present novel tumour markers and modern classification of testicular tumours;
to present the current regulations of EU regarding sperm & testicular tissue biobanking.

The cost of the EAA 2022 Summer School is as specified in the table:
| | |
| --- | --- |
| Junior residents | 200 € |
| EAA members | 350 € |
| Others | 450 € |
The Croatian Institute for Brain Research dormitory is situated on our campus and we have reserved 10 double-bed en suite rooms for the EAA Summer School attendees. The rooms are 150 HRK (approx. 20 €) per night. If you would prefer this accommodation option, please specify so in the appropriate section of the Application form.
For all information and registration, please send the filled out Application Form and your CV with publications to Ms. Jasna Turković at This email address is being protected from spambots. You need JavaScript enabled to view it. by 15 March 2022.
---
EAA Zagreb Winter School 2019
Testis Histology and Pathology for Clinical Andrologists and Embryologists
Date: 3-6 December 2019
Venue: University of Zagreb School of Medicine, Zagreb, Croatia
Programme: Download the programme